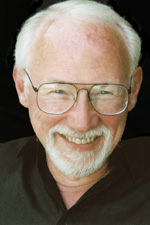 The year was 1939. Franklin Delano Roosevelt was in the White House. Hitler was waging war on Britain France. 131 million people lined up to see The Wizard of OZ, the Yankees won the World Series, a loaf of bread cost 8 cents, and, on January 23rd, the Brothers Hildebrandt were born.
Greg and Tim worked together winning awards and fame for their 1977 Star Wars poster and the J.R.R. Tolkien?s Lord of the Rings calendars.
They were strongly influenced by comic books & strips. They were captivated by films, including Frankenstein and War of the Worlds; and illustrators, N.C. Wyeth, Norman Rockwell and Maxfield Parrish.
Perhaps their biggest influence was Walt Disney, especially his Snow White, Pinocchio and Fantasia. They dreamed of becoming Disney animators. While they did not work for Disney, they became animators and documentary film-makers, working on a film about Project Hope for the Jam Handy Co., which won the Golden Eagle award for this film.
They worked on documentary films about world hunger, painted movie posters and illustrated their own epic fantasy novel, Urshurak.
In 1981 Greg & Tim pursued separate careers. Greg?s art has appeared on magazine covers, collector?s plates, figurines, dolls, and swords.
Greg illustrated 15 classics, including The Wizard of OZ, Dracula, and Phantom of the Opera. There are over 3,500,000 copies in print of these combined titles. The New York Times has said "Fortunate the child or adult who receives a gift of the classics richly illustrated by Greg Hildebrandt."
After 12 years they reunited to work for Marvel Comics. Ultimately painting almost 400 pieces for Marvel.
Famous people around the globe collect Greg?s art. In 1993, the Unexpected Party, from the 1977 Tolkien calendar, sold for $150,000.
In 1999 Greg began to paint a life-long dream. He created his American Beauties series of Retro Pinup art. There are 54 amazing paintings in this series.
In 2003, after listening to The Lost Christmas Eve & Beethoven?s Last Night, Greg began sketching into the wee hours of the morning. A hundred or so pieces of art later, he contact Paul O?Neill and they met.
Greg began creating art for the Trans-Siberian Orchestra that Fall. He loves Rock Opera so there could not be a better match than his art and TSO?S music. 2010 marks Greg?s eighth year creating art for Paul O?Neill and the Trans-Siberian Orchestra.
The art of Greg Hildebrandt allows the fantasies and dreams of children of all ages to come true. Come dream with us.
Greg is represented exclusively by the Spiderwebart Gallery.
You can see Greg Hildebrandt and Brothers Hildebrandt art and collectibles at:
http://www.spiderwebart.com