THE ART
Greg Hildebrandt: Illustrator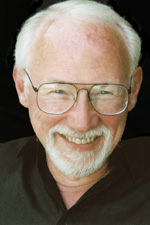 1939. Franklin Delano Roosevelt was President, and Hitler had invaded Poland. The New York Yankees won their 11th pennant. Hollywood introduced the miracle of technicolor with the release of The Wizard of Oz. A loaf of bread cost 8 cents, and on January 23, the Brothers Hildebrandt were born.

Greg and Tim began their professional career working for the Jam Handy Organization, an Industrial Film Production Company. In 1963, they moved to New York City and began work for Archbishop Fulton J. Sheen. They created art for his weekly TV show, Life is Worth Living, and produced films on world hunger.
By 1969, the brothers focused their creative energy on commercial illustration. 1975, fate would intervene: It came in the form of an open call from Ballantine Books looking for artists to illustrate their 1976 J.R.R Tolkien, Lord of the Rings calendar. Over the next three years, Greg and Tim poured their hearts into the world of Wizards and Hobbits, creating 43 original paintings for the 1976, 1977, and 1978 Lord of the Rings calendars. The trilogy of calendars was a massive commercial success, garnering the brothers international fame and attention. The world officially began to know and recognize The Brothers Hildebrandt.
Though Greg and Tim had just finished what was up to that point their most significant artistic undertaking, they did not rest. Riding the wave of their recent success, Greg and Tim dove headfirst into the process of writing and illustrating their novel, Urshurak. Published in 1979 by Bantam Books, Urshurak would become a New York Times best seller.
During this time in 1977, a young filmmaker by the name of George Lucas was in need of a striking movie poster to help sell his latest film. He had taken notice of the first two Lord of the Rings calendars. Through an ad agency, 20th Century Fox hired the Brothers to create what has since become one of the most recognizable movie posters in cinematic history. The movie, of course, was Star Wars.
Greg and Tim would continue a long and successful career garnering attention and awards, including the Gold Medal from The Society of Illustrators, both independently and as the Brothers Hildebrandt until Tim's passing in 2006. The Brothers Hildebrandt's art is a pathway leading to the written word and a journey into the imagination. Their legacy will continue to ignite children's and adults' desire to embrace literature and art in all its glory.
Following in the tradition of many great illustrators, Greg focused on illustrated classics. Greg created 14 heirloom classics and fairy tale collections for Simon and Schuster and Unicorn. His classics series includes notable titles such as The Wizard of Oz, Aladdin and the Magic Lamp, Robin Hood, Dracula, and Phantom of the Opera. The New York Times has said, "Fortunate the child or adult who receives a gift of classics richly illustrated by Greg Hildebrandt."
In his individual creative pursuits, Greg realized a lifelong artistic dream in 1999 by creating the American Beauties pinup series.
In 2003 while decorating for Christmas, Greg decided to play for the first time a CD that a friend had given him for the holidays. Greg was immediately overwhelmed by what he was hearing and listened to the entire album several times. Excited by the music he had just discovered, Greg shared it with friends and anyone else who would listen. He sought out more of their work and found it pervading his thoughts throughout the day. Unable to sleep one night, Greg found himself at his drawing table listening to the music and once again wholly enraptured by the story. He devoured the liner notes and feverishly began creating art to go along with the words and music. This went on for months. When he emerged from his stupor, he had completed nearly 180 drawings and paintings to accompany the masterpiece Beethoven's Last Night by Trans-Siberian Orchestra ("TSO"), a progressive rock band known for their large-scale stage shows and themes of hope. Not knowing what to do with the work, he took the stack of imagery to his agent, Jean Scrocco, for advice. Acting on her words, he called their recording studio and asked for Paul O'Neill (owner, creator and lead songwriter for Trans-Siberian Orchestra). Not expecting much (and to no surprise), Paul was not in to take the call. Leaving his contact info, Greg went on about his business, all the while the music still stirring in his soul.
The following day while working in his studio, Greg answered the ringing phone. "Is this Greg Hildebrandt?" came the voice on the other end. "This is Paul O'Neill from the Trans-Siberian Orchestra; I can't believe you called me. I've been a fan of your work since the '70s!"
They met for dinner and began developing a friendship immediately. It was not long before Paul approached Greg to illustrate the album cover for TSO's upcoming album, 2004's, The Lost Christmas Eve.
So well did the styles of art, words, and music combine that Paul and Greg sought further collaborative efforts. Jean Scrocco, Greg's agent, had a perfect idea: Greg could illustrate Paul's words for the upcoming Winter Tour concert program. The idea was well-received, but met with initial skepticism; after all, concert programs are typically just photos of the band. Once the deal was set, Greg immediately began creating all-new art for the program cover. His images captured the essence of TSO and delivered a means for the audience to visualize the story of TSO's lyrics. From that moment forward, Greg became the exclusive artist for Trans-Siberian Orchestra. Over the years, Greg and Paul maintained their friendship, and the bond based on mutual admiration and respect centered around the creative process strengthened. Not since working with his brother Tim has Greg worked so closely and passionately with another person for a shared vision and goal.
Now in his 80s, Greg continues to create and work every day, feverishly chasing his imagination and exploring the world of art around him. The American Beauties series is now well over 100 paintings. He recently began a new series titled Kid Stuff. In it, Greg explores the passage of time and deterioration by rendering his childhood toys as they appear now weathered with age. These paintings are some of his most intriguing and thought-provoking works to date. His work continues to be sought after by collectors around the world. Notable collectors of his work include Robin Williams, Paul O'Neill, George Lucas, and many others. Greg continues his hyper-prolific churning of creativity and shows no signs of slowing down any time soon. When asked if he will ever retire, he replies, "I can't retire from being myself."
There is currently a documentary film in production about his life and career, slated to be released in 2022.
Greg is represented exclusively by the Spiderwebart Gallery.
You can see Greg Hildebrandt and Brothers Hildebrandt art and collectibles at: http://www.spiderwebart.com